Pipe and glassware payment gateways
Without the right partners and advice, setting up the ability to accept credit cards for a smoking accessory site and selling common items like pipes, quartz bangers, and bubblers can be frustrating. Our job is to make it easy for you. We can help you with a pipe friendly payment gateway that works with your site builder and shopping cart.
Since 2002 we have helped thousands of website owners with affordable, easily integrated high-risk payment gateways and merchant account recommendations. You can check out our A+ accredited BBB rating and read what other site owners have said about us here. 
Our knowledge and willingness to help you one-on-one throughout the entire process, and our vast experience and network of industry contacts, can make setting up a payment gateway for your pipe and glass accessory site a breeze. Best of all, we are paid by the payment gateways and solutions we work with- not by you. Our no-obligation friendly advice can often save you money. Read more about us here.
Whether you have a high-end, hand-blown, heady glass site or a prospering, "prodo" pipe business, we can help you accept credit cards.
Our solutions work with Shopify, WooCommerce, BigCommerce, Wix, and almost all the popular shopping cart and site builders. We can help with your payment gateway and recommend a merchant account that works for you. Contact us today to get started.
Expertise in high-risk payment gateways and shopping cart compatibility
At Tasker Payment Gateways, we specialize in finding the best payment gateways for a wide variety of online high-risk business types. If you're planning on selling pipes and glassware and need help accepting credit cards, you've come to the right place!
 A reputation you can trust
As well as being an A+ Better Business Bureau accredited company – we're pleased to say we have many happy clients who've been kind enough to give us reviews on both BBB and Facebook.
Our experience will save you time and frustration
With our vast experience in the high-risk e-commerce field, we will help you find the right merchant account for your website. We will also give you a hand integrating your shiny, new high-risk payment gateway with your e-commerce platform of choice.
Our network of expert high-risk specialists is ready to provide your business with the ability to accept credit cards online. Please feel free to contact us through our contact form at the bottom of the page. We're always ready to go the extra mile, and we're only a phone call or contact form away!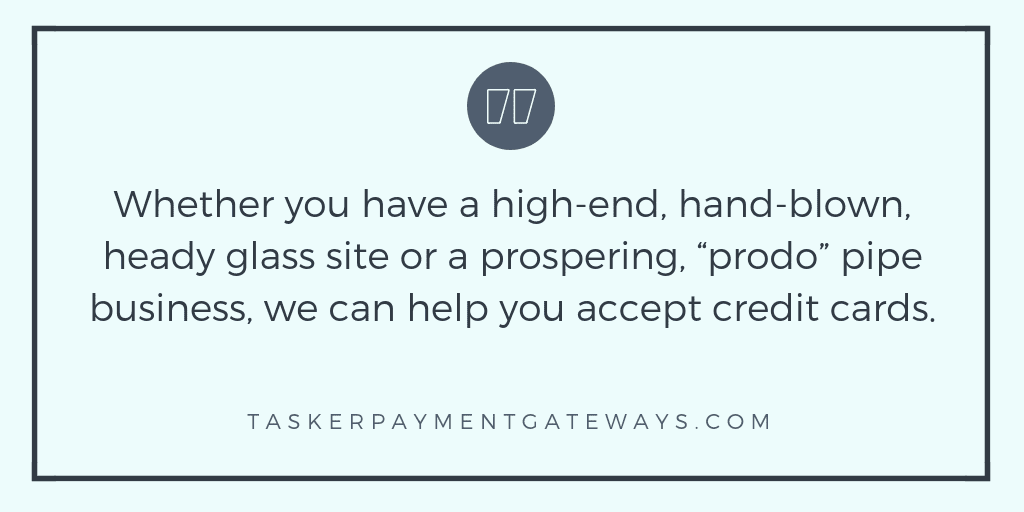 Selling pipe and glassware products online
If you've been selling pipe and glassware products for a while, you might already know how difficult it was to process credit cards only a few years ago. Luckily, it's now considerably easier to find great payment gateways, merchant accounts, and e-commerce platforms for pipe and glassware businesses.
Platforms and site builders now available for pipe and glassware businesses
Some of the major e-commerce brands and shopping carts are now available and can be easily integrated with pipe friendly processing if it is done carefully and correctly. This opens up a world of possibilities for pipe and glassware e-commerce.
Reliable e-commerce platforms like BigCommerce and Shopify, to name a couple, give you a range of functionalities and allow you to take your online sales of pipes and glassware to the next level.
Leverage our expertise to set up high-risk payment gateways and merchant accounts
Without the right experience and research, finding an excellent payment gateway and merchant account combo still isn't exactly a cakewalk. There's a host of factors that come into play when operating within any high-risk industry. However, with the help of our experience and network of industry contacts, we'll be able to assess your needs and set you up with what you need to get started accepting credit cards.
When you first get in touch with us, we'll ask some standard questions about your business. This will let us identify your best payment options quickly.
When in doubt, ask an expert
One thing we do recommend, especially if you are new to the business, is that you seek a qualified attorney that knows your industry and is familiar with all the state and local laws that impact you. Talking to an attorney early in the process is always an excellent way to ensure that you don't run into any unexpected hassle down the line.
The words and images on your glassware site matter
We know from experience that even small tweaks to your website's content, or your social media, can make a difference in whether you cross a line with various terms and conditions that payment gateways and merchant account providers enforce. It can be confusing- for example, want to say boro or borosilicate glass? That's fine. Bangers? No sweat. But many other familiar terms can cause you real issues. Let us review your site and get you a payment gateway quote at the same time- it can save you a lot of time and hassle.
Beware the links and redirects
The processors will want to see that your products align will all the rules and regulations. They will be checking to see if you have links from your site to other pages or social media accounts to ensure those accounts do not have illicit references that could be construed as applying to your products. The underwriters will also be able to see where you applied in the past and will want to make sure that you are not merely redirecting traffic from an old, previously declined URL to your new compliant site. This can be complex, so please reach out to us for one on one help. 
Our new account specialists are all highly experienced in the high-risk market and can meet the payment needs of your pipe and glassware e-commerce business. You will be assigned a dedicated agent who will walk you through, step by step, everything you need to do to accept credit card payments on your smoking accessory website. Additionally, our goal is that you will always have a dedicated point of contact you can call or email – for as long as you process credit cards. We want to be there for the long haul.
Why you should carefully choose which payment services you use for your pipe and glassware site
Are you just starting out and looking for your first payment gateway, or are you reassessing your current one? Either way, there are certain things you'll need to keep in mind – one of which is that not all payment services are created equal. There are certainly differences between various merchant accounts, between payment gateways, and among different e-commerce platforms.
Even after you've done your research, and you know that you've found one that is indeed suited for high-risk e-commerce, there are still potential pitfalls. We'll be able to help guide you through this, making obtaining the payment services you need a pain-free and even pleasant experience overall.
How to find the best payment gateway for pipes and glassware
There are some potential dangers and problems high-risk merchants can face when taking cards for the first time. Some are worse than others, but if you 're looking for a high-risk payment gateway, you probably are savvy enough to realize how vital the correct payment choices are for your site. When choosing your payment gateway, information is critical. This is why knowing as much as possible about the different service providers is so important.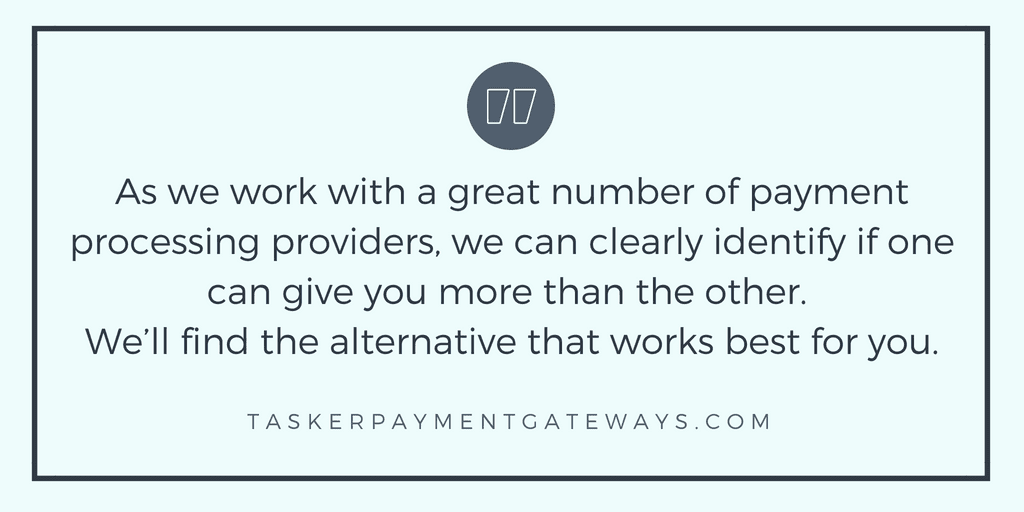 At Tasker Payment Gateways, we specialize in identifying what solutions are best for you as a pipe and glassware merchant. We will work to steer you clear of serious problems, like held funds or shut-down payment gateway accounts.
We use our extensive, vetted network of contacts in the high-risk market to ensure that we find you the best option possible. We'll keep your industry, location, and the type of platform you're looking for in mind. That said, if you have a platform that doesn't work for you, we will recommend alternatives for you to choose from.
Don't hesitate to take advantage of our expertise! You can always contact us using our contact forms for some free advice and suggestions. We are paid by the providers, not you, so don't be afraid to reach out for help.
Payment gateway, merchant account, and platform combinations matter
While this might seem like a given, you must be well informed when you make a decision on any of the following for your business:
The best payment gateway to use for a glassware site
Which high-risk merchant account to apply for
What shopping cart or site builder works best for your business
You also need to consider how these three work together, and we can help with that. We always keep our ear to the ground for news in this sector, and we know all the ins-and-outs of the industry. We'll highlight what works best for you and what your options are – at no direct cost to you. We are paid by providers when we send them qualified businesses. We enjoy helping new site owners regardless of whether or not we make money right away.
We have learned, over the many years we have been doing this, that "it all comes around." When we help an online business by sharing information that helps them thrive- we thrive. It's as simple as that.
We want to help you make the best payment choices for your pipe and glass site. After all, some payment gateways are exceptionally good at facilitating certain high-risk business types, while not being equally as impressive for others. For example, if you also sell more traditional products, more often than not, you'll need different providers for your glassware products. The reason that these products need different treatment is due to differences in their risk levels.
We'll make sure that you're well set up with the correct providers that you need for your product lines. In some cases, it's worth having more than one merchant account for different pipe and glassware products to take extra precaution in mitigating the overall risks to your shop. NMI, with an integrated BigCommerce shopping cart, would potentially be a great option in this case. Don't worry, though – when you know the high-risk payment business as well as we do – this assessment is easy to make. It all depends on your inventory type, location, and sales volumes; we'll let you know if multiple accounts are something we recommend for your business.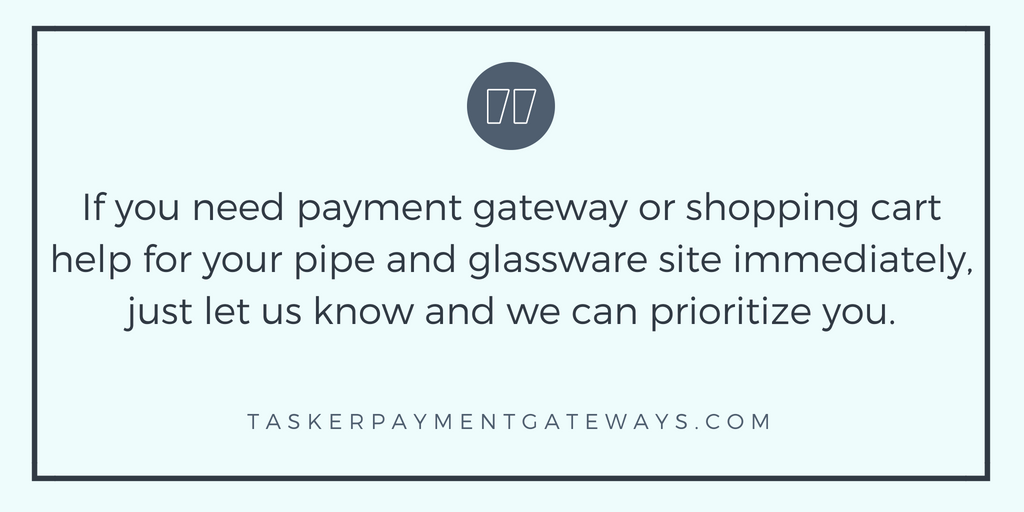 Shopping carts for your pipe and glassware site
As we mentioned earlier, these days, it's much easier than it once was to find and set up payment gateways for online pipe and glassware stores. More payment gateways allow credit card processing for pipe, glassware, and similar accessories. At the same time, the number of big-name e-commerce shopping carts that accept pipe and glassware products has increased dramatically. Among the carts and site builders that we provide payment gateway solutions for are e-commerce giants like Shopify, BigCommerce, WooCommerce, Wix, and Squarespace, to mention a few.
With our assistance, it will be straightforward for you to find and understand which is the best payment gateway option for you. It's as simple as getting in touch with us through our contact form below.
If you need a payment gateway or merchant account recommendation for your pipe and glassware site immediately, just let us know you need help ASAP, and we will put you at the front of the line.