Payment gateways for online FFL dealers
If you are a federally licensed firearms dealer looking to accept credit cards online, we can help with a 2nd amendment friendly Authorize.Net, ePN or NMI payment gateway for your business.
As a BBB accredited A+ rated provider, we will set up your online firearms or ammunition website with a payment gateway that fits your business. We offer FFL dealers stable payment gateways and credit card processing recommendations that work with all major shopping cart platforms.
Our FFL payment gateway recommendations are set up correctly – with 2A friendly processing on the back-end. Without this vital step, firearms merchants risk shut down accounts.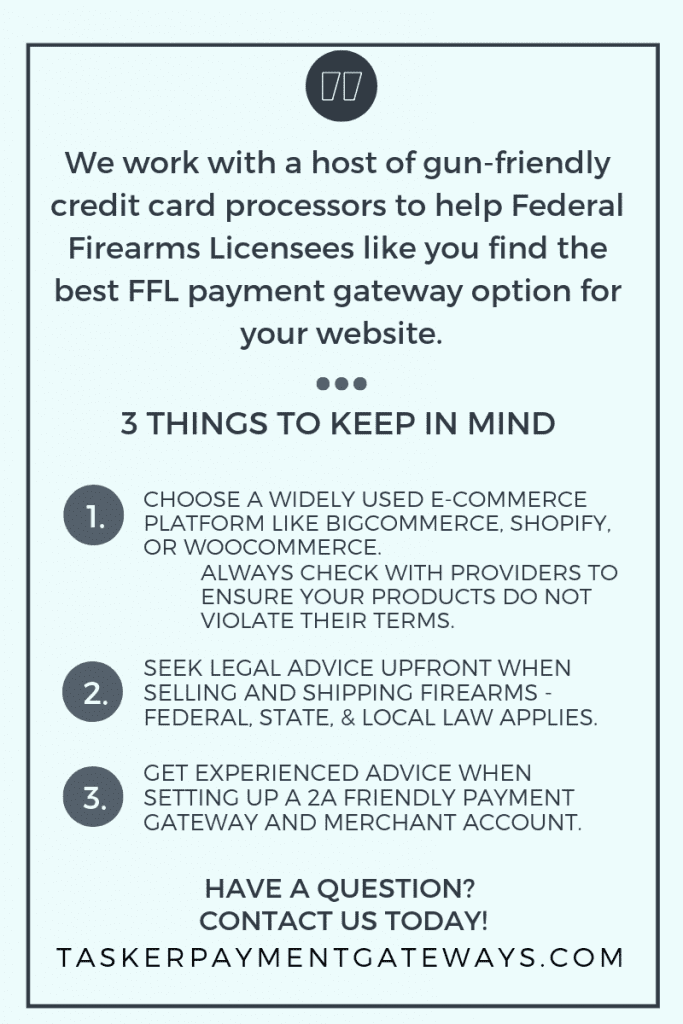 We appreciate the FFL community
As an FFL performing background checks, shipping only to other licensed dealers, and expanding Americans' access to their 2nd amendment rights, you provide an essential service, yet law-abiding dealers like you often have a hard time being treated fairly by vendors outside the gun community.
We work with a host of gun-friendly credit card processors to help Federal Firearms Licensees like you find best payment gateway option for your business.
In an environment where some formerly firearms friendly processors and software solutions have taken a politically correct, risk-averse stance, our tested and vetted recommendations have hung tough and continue to offer seamless integration with FFL compatible payment gateways such as NMI, eProcessing Network/ePN, and Authorize.Net. We also offer easy auction site integration.
We help one on one with set-up and do so at no additional cost to you. We will go over all the paperwork and payment processor requirements for online FFL sales and work with you every step of the way.
Let us help your online FFL business accept credit cards
Vetted payment gateways and processing for online FFLs
Contact us anytime. Usually within a few business hours, or sooner, we will recommend a 2A-friendly solution that will help you process credit & debit cards on your legal, US owned, FFL to FFL website.
While other card processors continue to walk away from law-abiding Federal Firearms Licensees who sell online, our recommended processors continue to embrace Internet-based gun dealers and appreciate your business. Our providers understand that your "see something say something" mindset and use of the federal background check system helps protect the second amendment rights of every American.
Our FFL payment advice comes at no direct cost to you
We are paid by our network of providers in exchange for bringing them qualified FFL dealers looking to process online – therefore we provide custom recommendations at no additional cost to you. Contact us, and we will get to work right away.
The top 4 site builders for FFLs
Tasker Payment Gateways LLC works with dozens of shopping carts and site builders, the four most common being BigCommerce, Shopify, WooCommerce, and Wix. You can read more about some of our FFL and high-risk solutions by clicking the links below.
Our tested, stable gateways and processors work with thousands of honest dealers like you and offer a variety of payment solutions. However your website is built, we can almost certainly help you find an FFL payment gateway that works for you.
Our 2A friendly payment solutions offer the following:
ePN, NMI or Authorize.Net accounts for online gun sales based on what is the best fit (Authorize.Net must be set up correctly, contact us to learn more)
Dropship firearms, ammunition sales applications accepted
One on one set up, and personal support for as long as you are up and running
A real human to talk to. Get the help you need, when you need it
Ready to set up a firearms friendly payment gateway? Contact us today!