Declined by Shopify Payments? Here's why, & what to do
Recently, we spoke to a new online merchant who put months of effort into a new Shopify website only to have their launch delayed due to having their ability to accept credit cards declined. The decline was not technically by Shopify itself, but by Shopify's out of the box payment processing relationship called Shopify Payments.
Oddly, to the merchant at least, the reason for the decline was because they were selling "pseudo pharmaceuticals." The website owner was not selling anything he thought even remotely resembled a pharmaceutical, pseudo or not, which begs the question, what are pseudo-pharmaceuticals? Well, it depends on who you ask. The definition is up to interpretation, which is what caused so many complications for the merchant who called us and many other merchants looking to get up and running on Shopify.
This is just one example, these challenges affect online merchants in many industries. From vape and online cigar sales to FFL websites looking to accept payments on Shopify, this article can help.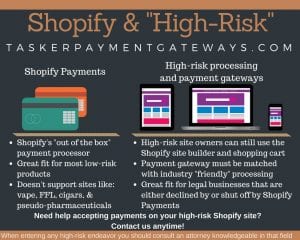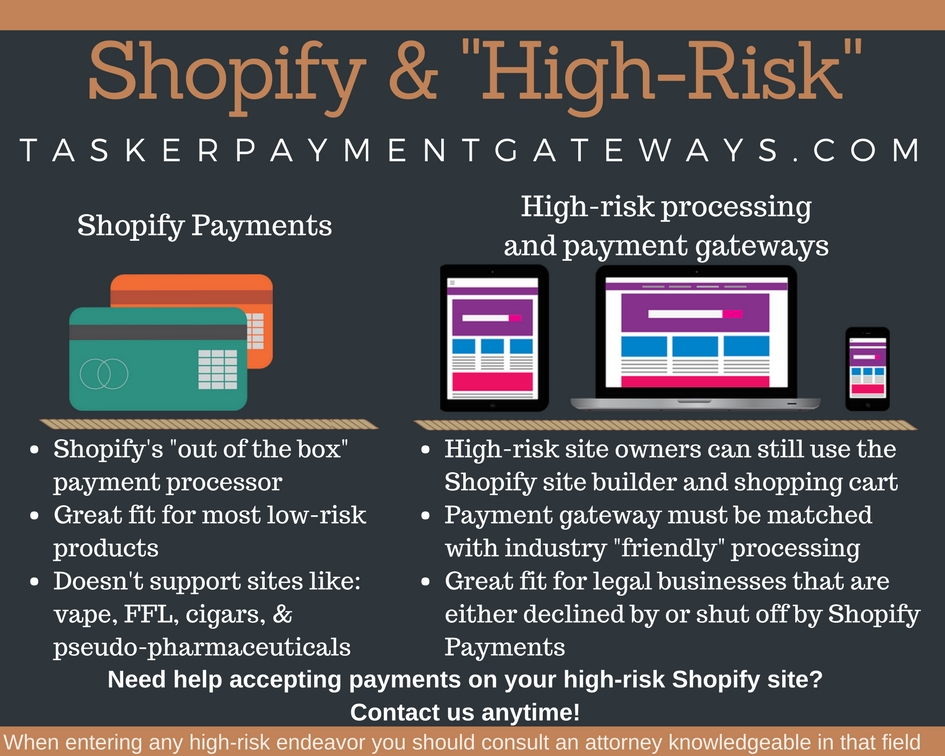 Why do some merchants have a hard time with Shopify Payments?

There are many reasons why your e-commerce store might not fit the standard allowed merchant categories at Shopify Payments. Some merchant types naturally should be restricted due to being illegal or highly dubious such as illicit drugs, pyramid schemes or get "rich quick products" with faulty claims. However, there are multiple other legal, legitimate businesses and product types being restricted. Some activities are not declined for any nefarious reason but are declined because they are not a good fit. You see, Shopify's out of the box payment provider, Shopify Payments, just won't allow them to accept card payments. The reason for this is generally because their business lies outside of Shopify Payments' standard merchant categories and are therefore prohibited.
These businesses usually meet with difficulties due to perceived financial risks to the processor, or because the processor simply does not have enough merchants on board already to judge their risk. For example, airline tickets are subject to a high likelihood of charge-backs or returns, as such, they are seen as "high-risk".  Other significant groups are regulated products, like electronic cigarettes, e-juice, firearms, premium cigars, and some, like our example above, are considered a pseudo-pharmaceutical. Financial companies need to process these payments with greater caution, as these products are either tightly regulated or highly scrutinized. Like you and your business, financial companies also need to take extra care in following rules and regulations when engaging in these markets.
Shopify, at its core, is a business and they need to manage risk efficiently. If products or businesses potentially cause harm to their company, their risk-evaluation concludes that they avoid this category altogether. This evaluation is based on multiple reasons. Chief among them is the potential of having to respond to a regulator, credit card company or deal with negative publicity. As an independent company with years of experience and many long-lasting relationships in the high-risk industry, we can take the time to understand what your business does and can help set you up with a processor and merchant account that works.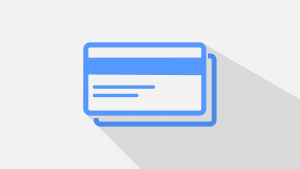 Don't get us wrong, we love Shopify, and we think Shopify Payments is perfect for the majority of merchants. We recommend them all the time, even for merchants who are not an ideal fit for Shopify Payments because the Shopify service and site builder are still terrific products. These "high-risk" merchant types just need some help accepting credit cards on Shopify, and we love to help them.
Pseudo pharmaceuticals and Shopify
Shopify restricts what they call pseudo-pharmaceuticals in order to target fake medicines and supplements with claims they cannot substantiate. Non-FDA-approved male enhancement pills with false claims and miracle weight-loss pills promising massive weight loss in a short period of time are perfect examples of these products.
Ethical supplements and Shopify
What about those who sell traditional herbal supplements with honest, straightforward descriptions? What about people selling herbal bug repellant, makeup that reduces the appearance of aging? What about over the counter skin, eye, or hair products that follow FDA monographs? What about safe weight lifting supplements manufactured in a GMP facility? Established homeopathic remedies? Many types of alternative products that aren't fraudulent could potentially, although not always, get caught in the crosshairs of the Shopify Payments prohibited category policy and therefore require us to set up a high-risk friendly Authorize.Net account for Shopify. 
Turned down by Shopify Payments and in need of a payment gateway?
Need help, or even just some expert advice? Please contact us here or use the form at the bottom of this page.  Our experienced, one on one support has helped hundreds of Shopify merchants benefit from the world-class site building features of Shopify even when their business type is considered a prohibited product service. Once you are set up, will even help you integrate a high-risk friendly payment gateway into your Shopify store, it's as simple as entering some credentials into their drop-down menu.
High-risk friendly alternatives to Shopify Payments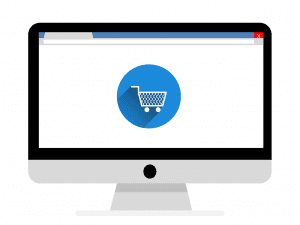 If you are among the businesses blocked from using the standard Shopify payment gateway, we can help. While frustration might tempt you to start all over with a new e-commerce platform, we can help you find a suitable solution while still using your Shopify site. We are very familiar with highly regulated e-commerce markets and can help almost any legitimate business find a way to navigate the complications and feel secure in a credit card processing recommendation.
Businesses that are within Shopify Payments' rules and guidelines will find that Shopify Payments is a fantastic solution. For Shopify websites that don't clearly fall within the rules and regulations, however, you are likely better off working with someone who can take the time to understand your business and make 100% sure that the payment gateway/merchant account combo is best.
We recognize a large number of merchants are looking for easy solutions to credit card processing challenges and we have been able to help many Shopify merchants continue to utilize its great features and still be able to charge credit cards for their products.
Need help accepting credit cards on Shopify?