What is "the best" high-risk payment gateway?
Well, it could be NMI, Authorize.Net, or ePN. It depends on a number of factors. This post isn't clickbait, and it's not a sales funnel; which high-risk payment gateway is the best for you depends on your high-risk business type and the details of your marketing offer. But don't worry, this article will help you figure out what is best for your high-risk website.
Whenever a website owner asks us what high-risk payment gateway is the best, unfortunately, our answer sometimes sounds a little bit like a sales pitch. Every time we answer with some variation of "it depends, let's talk about your business," it reminds us of the frustration felt when someone tries to get basic information from a contractor by phone. The follow-up question we often get is "can't you please just give me a simple answer before I carve out time on a Tuesday to talk to you?" and we'd love to.
Unfortunately, with our experience in high-risk payment processing, we know that more likely than not there's no black and white answer to which high-risk payment gateway is best for you. Not without more details about how your business operates and what you want to sell.
But, why isn't there a simple answer?
It is a good question, and luckily there is a right answer. Below are a few examples of why the answer is so nuanced and why we always recommend folks call us or contact us to discuss their exact situation.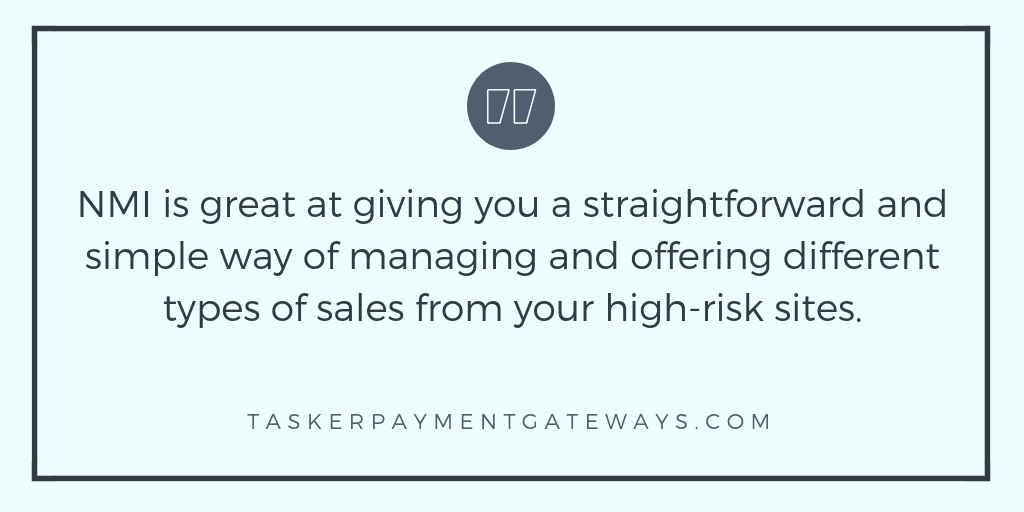 High-risk payment gateway example #1: a complex cigar site using Magento and NMI
If you need a gateway and payment processor for a premium cigar site using the Magento platform – and you run various product types, (like one-off sales and cigar-of-the-month subscriptions), then NMI is the payment gateway for you.
By using NMI, you'll be well set-up for processing and accepting payments for different types of sales. After all, there are very different types of risks involved selling one box of cigars than with a recurring billing setup for a cigar-of-the-month. With NMI you'll effectively manage these risks with multiple merchant accounts. NMI is great at giving you a straightforward and simple way of managing and offering different types of sales from your high-risk sites. If you want, you can check our overview of NMI features. There you'll find videos and short descriptions of the many features and settings available.
The NMI payment gateway allows you to log in, pull reports, and manage all your merchant accounts through one master login. You could use the NMI account balancer to direct your high-risk products to your higher-cost merchant accounts and your low-risk products to your low-cost accounts (with your processor's blessing of course). You could even create custom routing based on volume, average ticket, SKU, etc. See? NMI is the best. This combined with the Magento platform's ease of use is a sure winner for your online high-risk cigar store. But is NMI the way to go for all high-risk sites?
High-risk payment gateway example #2: a vaping website using Shopify
Let's say you're a medium-sized e-commerce business selling electronic cigarettes and e-juice online using Shopify. Or your business is mostly online. You do make some wholesale deliveries and accept some payments in person. Lastly, you want to start using Shopify as your site-building software. Well, in this case, the answer is obvious. Authorize.Net is the best payment gateway for you (in our humble opinion). It will integrate so seamlessly with Shopify that you'll think of them like milk and cookies (well, you know what I'm trying to say).
With Authorize.Net set up with your Shopify platform, payments will automatically process, we'll be able to make a solid vape friendly merchant account recommendation, and you'll be off to the races. See? What did we tell you? Authorize.Net is it. Many think of Authorize.Net as an all-in-one payment solution. However, it's just software. With the right high-risk processing in the back-end, you can integrate Authorize.Net with a whole host of site-builders, shopping carts, and platforms. Authorize.Net is among the gateways we recommend the most to a host of different e-commerce site owners. Don't forget, the vast majority of those who sign up receive a $0.00 set up fee. Through our vetted solutions, a free setup is standard practice. But wait, there's more.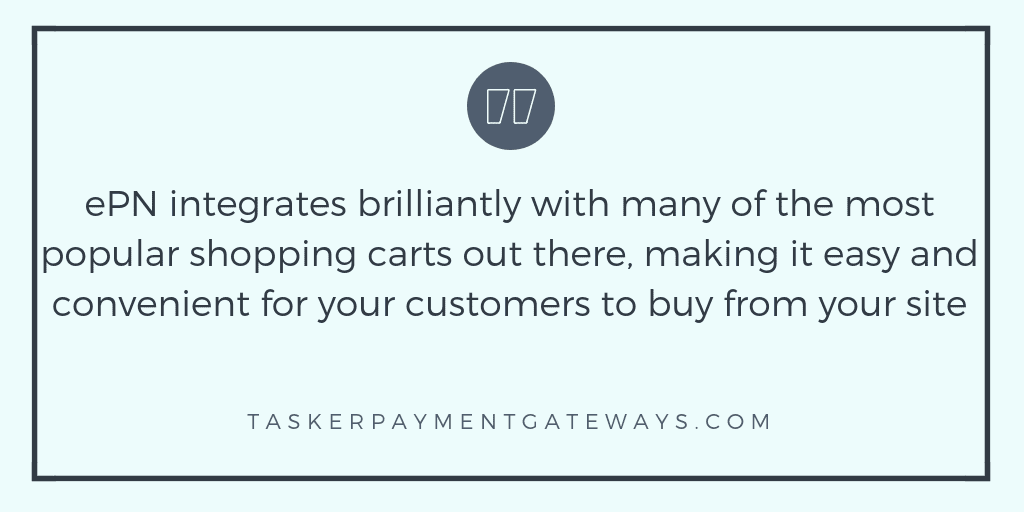 High-risk payment gateway example #3: an online FFL dealer looking to accept credit cards
Let's say you're an FFL dealer with a thriving retail shop, but you want to expand your reach. You do everything by the book, and you're ready to start selling firearms on your WooCommerce site, as well as through the two most popular auction sites. Well, no gateway appears to be more entrenched in the FFL community (judging by our unscientific, not vetted surveys) than eProcessing Network. ePN will plug right into the big boys of FFL auction sites in 5 minutes, and you'll be off to the races.
With ePN you can easily customize your product- and check-pages for a great overall FFL e-commerce site. It also integrates brilliantly with many of the most popular shopping carts out there, making it easy and convenient for your customers to buy from your website. So, the WooCommerce and ePN combo is the best way to go, right? Well, there's also…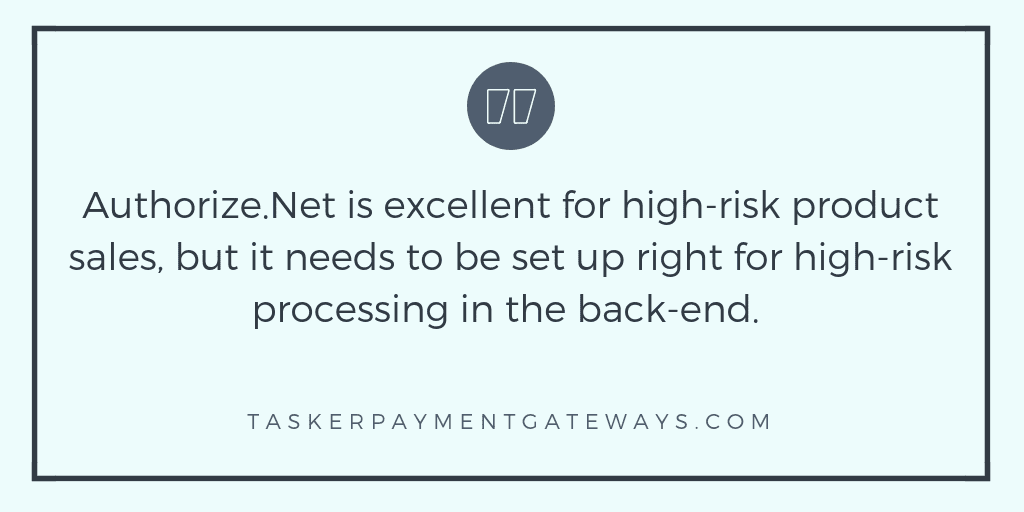 High-risk payment gateway example #4: a tactical e-commerce store wanting to process credit cards
Tactical merchants sell self-defense items, knives, or weapons online – even non-lethal items like pepper spray or stun guns. Let's say you're a tactical merchant in the final stages of deciding between GoDaddy and Wix, but you're looking to get the payment processing part out of the way. In this case, you'll need to use Authorize.Net. As long as you have the Authorize.Net gateway set up correctly for your high-risk business, you'll be golden. You see, GoDaddy and Wix websites have some integration limitations. If you're set on using either of those site builders, we would advise Authorize.Net every time, and it works with both.
These days, you'll need a little bit of a workaround to use Authorize.Net with Wix. However, we found a solution that works. Using Foxy.io allows you to integrate Authorize.Net with Wix, which makes for a powerful tactical product payment processing solution.
By using Authorize.Net for your tactical site you'll be good to go. That is if your Authorize.Net account is correctly set up. Authorize.Net is excellent for high-risk product sales, but it needs to be set up right for high-risk processing in the back-end. That's where you can take advantage of our expertise to help you set it up correctly. Feel free to get in touch for a no-obligation, free-of-charge, quote and we can have you up and running in no time. Surely, all the best alternatives and combinations are covered, right? Well, no, there's more…
High-risk payment gateway example #5: online smoking accessory site using Squarespace
An online smoke shop built with Squarespace, selling pipes, bongs, and grinders requires a little expert guidance in order to accept credit cards. Because the out of the box Squarespace payment processors do not accept online headshop sales we have put together a reliable, and affordable way for Squarespace sites to integrate alternative credit card processing.
Similar to the solutions we have for Wix high-risk payments, our Squarespace payment gateway solutions are stable and easy to set up – when done correctly. (Contact us anytime and we will walk you through all the details.)
The Squarespace platform is really intuitive and affordable, and when aligned with the proper pieces it allows for the selling of any legal headshop item. Amazing, right? Well, it is, but it needs to be set up carefully and correctly.
The good news is, that our recommended Squarespace alternative payment processor tips allow for integration with the Authorize.Net or NMI payment gateway which opens up our ability to make a host of high-risk merchant account recommendations. You can read more about taking credit cards for glassware and pipes, (and numerous other regulated products), by reading our deep dive into alternative payment gateways for Squarespace here, or by contacting us for advice based on your situation.
Need a high-risk payment gateway and processing recommendation?
As you can tell, there's no simple answer to the question "what is the best payment gateway?" The examples above are just a few of the thousands of different types of online stores out there. The world of payment gateways, high-risk merchant accounts, shopping carts, website builders, and payment options can be overwhelming. Wix and vape, Squarespace and CBD, WooCommerce and survival items- it can seem like too much to process.
Don't go it alone – we're happy to help. We're always excited to share our experiences with any legal e-commerce business owner. Contact us anytime using the form below to ask a question, or to get started with the best high-risk payment gateway for your business.