Payment gateways for tactical websites
Are you a website owner looking for a stable way to accept credit cards for your tactical site? We specialize in helping tactical, prepper, weapon, and survival site owners like you with stable payment gateways and credit card processing recommendations.
If you are looking to get started selling tactical items online, or are already processing but afraid that you will be shut off by your current provider, contact us today for fast, honest advice.
We are BBB A+ rated and enjoy working with tactical merchants and online FFL's. We support all major shopping carts and site builders, including, but not limited to WooCommerce, Shopify, BigCommerce, osCommerce, Squarespace, Weebly, and Wix. 
But first, some notes regarding selling lethal or non-lethal weapons online:
If you are planning on selling any tactical goods, self-defense items, knives, or weapons online, even non-lethal items like pepper spray, stun guns, or "weapon like" items, you need to consult an attorney and get qualified, legal advice FIRST. There are many many rules and regulations, and they vary from state to state and town to town. We are not attorneys. We provide e-commerce solutions and recommendations on payment gateways, merchant services, software, cash-flow ideas, and chargeback reduction for high-risk merchants. Fill out the contact form below if you have any questions of any kind.
If you are thinking about expanding your selection of tactical items, survival supplies, or weapons to firearms via FFL to FFL deliveries, please check out this article,

i

t can help you get started in that direction. You can also

contact us

with any questions you may have about our services or getting started, or you can learn more about FFL firearms e-commerce here.
Ready to accept payments for your tactical website? Contact us today
Valuble information on selling tactical goods online
Personal defense items, collectible knives, survival supplies, and tactical products have been a growing industry for years. The growth has included non-lethal defensive tools like pepper spray, stun guns, and tasers. Unfortunately, you can't just start up a website to sell these products just like that, but you can start relatively simply with a few tips, the right payment acceptance vendors, and some legal advice from an attorney who specializes in your industry.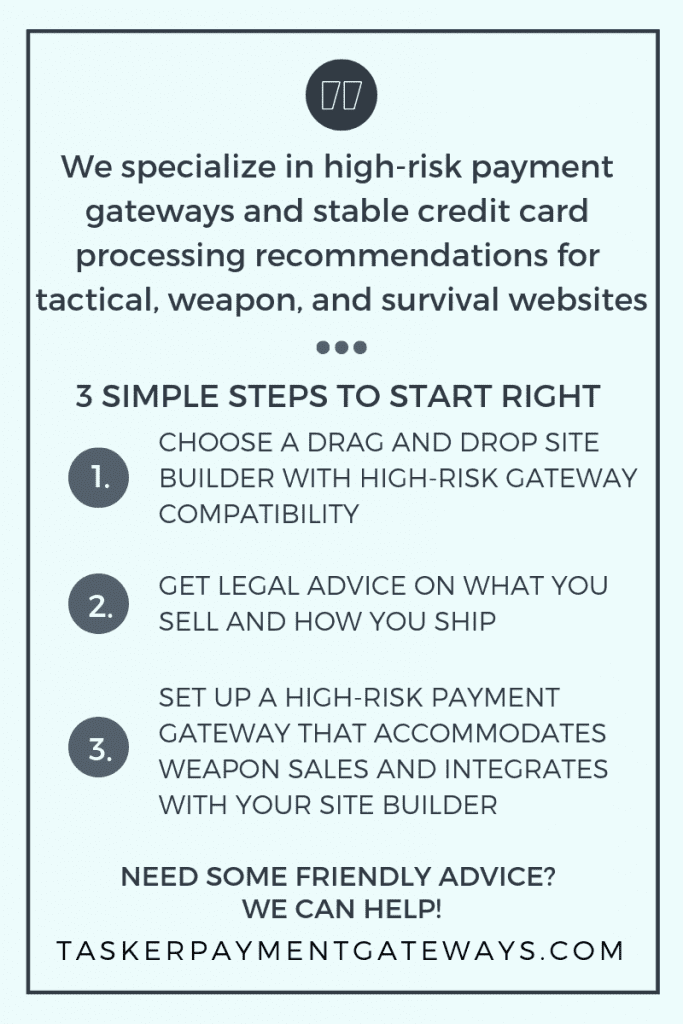 First, you need a website, so choosing the right software suite or website platform is essential. You can find a great list of software spotlights on our blog, or contact us for recommendations. For merchants who are new to e-commerce, and not technically savvy we recommend a template based web program, not a custom solution. We also suggest you not only get legal advice that may determine not just what you sell but where you ship it. Additionally, we strongly advise you to look into the shipping rules themselves and how they vary from carrier to carrier, in detail, and discuss them with a qualified attorney. Some items are a violation of law to ship via air; many items cannot be shipped US mail without violating federal regulations. Here is a USPS link with more detail.
Set up a payment gateway that allows weapons
While you are taking care of choosing and setting up your overall website, it's also time to get yourself stable payment processing. Your site needs to be set up to accept what are called "high-risk" payments. If you are selling survival items like water purification, fire starters, MRE's, or even survival coaching you do not necessarily need a payment solution that allows weapons day one. But like any contingency preparation, doing what you need today does not always mean you are preparing for what you may need tomorrow.
Not selling weapons today? 
We will often still recommend you go with a weapon friendly payment gateway processing solution even if you are not selling weapons.
Here's why: It is easier to start out with the relationships and payment gateway solutions you will need down the road now than it is to switch later. If you are teaching and helping people how to prepare, you should prepare your business for the future too. Most tactical website owners end up selling something that is considered a weapon at some point. Knives, bear spray, brush clearing tools etc can all get a non-weapons account shut off unexpectedly. Let us set you up for the long haul.
Even if you are only selling information, you should still be with a processor that is friendly to your industry as a whole. We will recommend a merchant account that appreciates your industry and not one that will shut you down because you have a knife or firearms reference on your website.
Just because you are not selling weapons does not mean that out of the box payment processor your site builder offers is always a good fit. We often speak to merchants who sell survival gear, tactical flashlights or accessories on their websites and still have challenges due to their sites being deemed controversial. Again, even non-FFL sites with informative blogs that discuss self-defense or 2A issues sometimes run into trouble.
If you are selling weapons, don't mess around for even one day; you need to do it right
All weapons products fall into the category of high-risk, or "commonly prohibited goods and services" which means many mainstream banks, processors, or payment processing institutions are less than keen on processing your transactions.
Signing up for a "high-risk" payment gateway with the appropriate merchant account on the back end allows you to process your credit card transactions securely, giving each party peace of mind. Please note, this is only true as long as your gateway pairs up with an appropriate high-risk credit card processor on the back end. Fortunately, we can assist you in setting up your payment gateway, and recommend a weapons-friendly credit card processor to deposit the proceeds from your online sales into your existing business checking account.
If you have already chosen a software suite or e-commerce shopping cart, then we should easily be able to guide you through the process of setting up a compatible payment gateway and recommend a high-risk friendly merchant account to go with it. We will also ensure that you are helped, step by step, with one on one support when it's time to integrate your payment gateway and merchant account with your shopping cart.
Once you have both your site and your payment gateway set up, you will need products to sell. It shouldn't be hard to find distributors and wholesalers to stock up from and, fortunately, many vendors are a wealth of information. Remember, it is in your suppliers' best interest for you to succeed, many are willing to help if you ask them.
Ready to start accepting credit cards?
Contact us anytime to get started with a tactical and weapons friendly payment gateway and credit card processing recommendation.