How to sell high-risk products on Squarespace: set up your 3rd partypayment gateway the right way
Have you recently built your high-risk e-commerce site on Squarespace only to realize that your available payment service options are limited to Stripe and PayPal? As many of you might already know, neither Stripe nor PayPal is capable of processing payments for many businesses in the high-risk industry. Most high-risk business types are listed within their "prohibited" categories or in violation of their allowed use policies. In short, the out-of-the-box payment solutions you get with Squarespace aren't going to work if you sell vape, FFL to FFL products, pipes, and glassware, or cigars.
Many of our clients have asked us "what can I do to sell high-risk products on Squarespace without starting over by using a different shopping cart ?"
Squarespace has some great website building features that make it easy for you to create the e-commerce store you want. Squarespace offers a significant amount of freedom to customize your site as you see fit. It's a great fit for small and medium online businesses. It's simple and straightforward to edit, without you needing to know anything about coding. Of course, it also allows you to easily edit SEO elements of your site with a standard gear icon.
If you have already created your site, you've probably invested a lot of care and time into creating the online store you've always imagined. Luckily, there is a way to keep using Squarespace while still selling your high-risk products and we are happy to help.
Using the Shopify cart with Squarespace for high-risk sales
In order to sell high-risk products on your Squarespace site you can integrate Shopify Lite or a Shopify Buy Button. This is great news, as Shopify is a favorite of ours when it comes to processing payments for high-risk e-commerce. We're very happy with what they offer our clients, which is why, after years of helping merchants set up high-risk payment gateways that work with Shopify, we became a Shopify affiliate as well. You can sign up for Shopify's Buy Button for Squarespace here. Meanwhile, we'll go ahead and explain the Shopify Buy Button a little more, as well as how to make all this work together to enable high-risk payments.
Making all the moving pieces work can be a little confusing and depending on your product type you may want a little head start. Please feel free to contact us early in the process. Just let us know what you are trying to sell, and we will work with you to get an appropriate high-risk payment gateway up and running on Squarespace.
The Shopify Buy Button
The Shopify Buy Button allows you to essentially transform any website into an e-commerce site where you can sell your products easily and quickly. Simply set up your Shopify Buy Button, and Shopify will create the code you need to add the button to your site. They give great explanations on how it works, but essentially it's a copy and paste job.
Something that sets the Shopify button apart is that it allows you to customize it to fit your brand and high-risk website. In summary, it's simple to set up, only costs about 10 bucks a month as of this article's creation, and gives your site a consistent look when it comes to how your customers buy.
How to enable high-risk payments with the Shopify Buy Button
There's more to accepting credit cards for high-risk products on Squarespace than adding Shopify. You see, Shopify doesn't actually allow high-risk sales with their out-of-the-box payment options either. What Shopify does offer, as opposed to Squarespace, is high-risk payment integration. We realize it might sound confusing, but it really is quite straightforward if you're familiar with high-risk payment processing.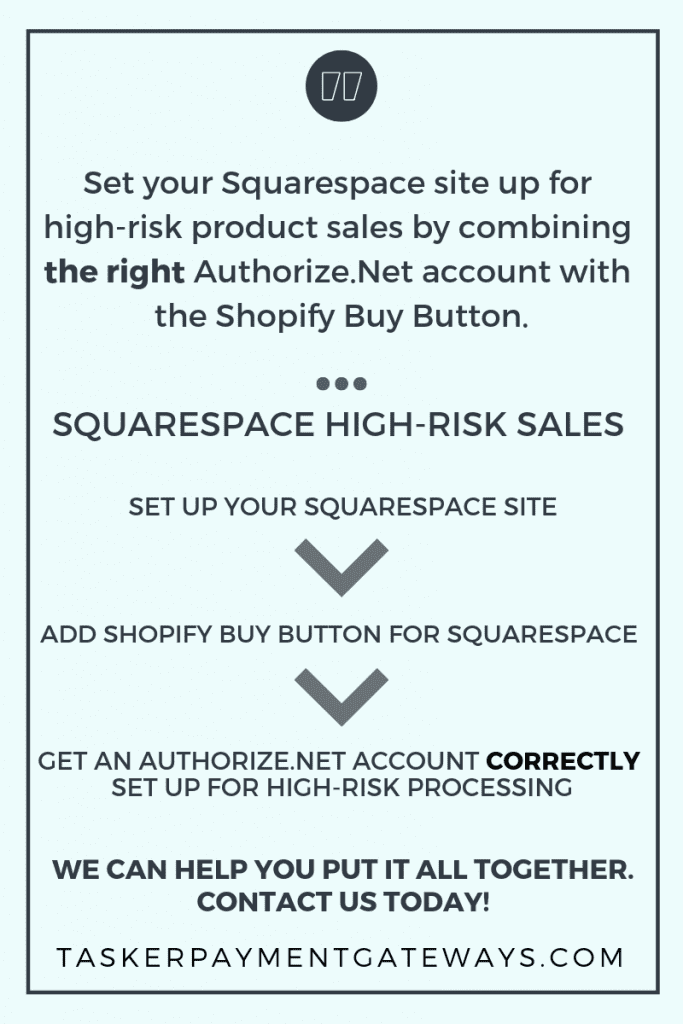 You can start accepting payments for high-risk products on your Squarespace site by contacting us to get a high-risk friendly Authorize.Net account. This account is then integrated with Shopify's back-end high-risk processing. With these combined, you'll get a high-risk friendly Shopify Buy Button for your Squarespace site. In short, follow these steps:
Set up a high-risk Authorize.Net account with proper processing on the back end
Have us help you connect your Shopify account to high-risk processing
Paste the Shopify Lite, or Shopify Buy Button, into your Squarespace site
That's it, and don't forget we're always available to talk you through the entire process. You can use our contact form below to reach out for some free advice and one-on-one talks about your payment needs.
Contact us for assistance today
At Tasker Payment Gateways, we've helped high-risk site owners set up payment processing since 2002. We specialize in finding excellent high-risk payment gateways that suit our clients' needs and recommending high-risk merchant accounts. In other words, we are extremely familiar with the high-risk payment processing world. We can help you find and integrate the payment methods you have in mind for the platform of your choosing. Check out our BBB A+ rating here.
Keep in mind, we offer lots of free advice and you don't have to have everything figured out before you get in touch. We're more than happy to talk through your options and what's best for your business. Contact us today and we can help you start processing credit card payments for your high-risk products as soon as possible.