How to sell vape products online without a $500 fee
"What? $500 upfront just to accept credit cards?"
That is something that e-juice and electronic cigarette merchants have been upset about since the requirement, by one credit card brand, that merchants who sell electronic cigarettes or e-juice online register as a tobacco merchant, began almost a year ago today.  Since late 2016, early 2017, electronic cigarette merchants looking to sell online had 2 choices:
Use an out of the box solution and hope the processor does not catch you and shut you off. Or
Pay $500 annually to register as tobacco online retailer, even if you do not sell any tobacco.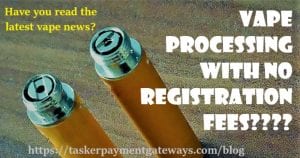 There are new options for vape merchants who don't want to pay the $500
It is our job to recommend solutions that work for high-risk website owners. Need a single payment gateway that can manage your 10 websites and route transactions to your 10 merchant accounts? No problem. Want a short-term funding deal to provide cash flow to expand your online vape inventory? No problem. Need a simple way to pay affiliate sites? No problem, we can help. It's what we do. But…. until recently when we were asked "how can I sell e-juice online without paying $500 upfront and without risking getting shut off by an aggregator type payment facilitator" we were stumped. But, not any longer, now we can tell you how.
Selling e-liquid online without paying a registration fee
How does it work? It is pretty straightforward actually. We have reached out to our large network of industry insiders and are now able to recommend a stable, legal, and elegant solution. You see, the $500 is only required by 1 of the 4 major credit card brands. So, what our contacts are able to do is set up your web store so that you can accept 3 of the 4 major card brands now, without paying the $500, and then once you grow and have the cash flow they can turn on the 4th card type if you like.
Should you get your payment gateway from one of our trusted partners we can even show you how to enable and disable card types and turn them back on when needed. It really is that easy. These no registration fee vape processing solutions work with all the major carts like Shopify and WooCommerce and can be set up with no money upfront and usually to no reserve funds held.
Want to learn more about accepting credit cards for your vape site without a $500 registrations fee?
Contact us today using the short form below