New from BigCommerce: jump-start your site launch!
We have just learned about a new BigCommerce launch program that we think will be a big help to many of the new high-risk site owners we work with.
We all know how much work goes into running an online high-risk business successfully and properly – from double checking the legal parameters of your industry to ensuring that your merchant account and payment gateway both suit your business type.
The exciting news is that BigCommerce is now offering a new product to help both start-ups and established site owners switching to BC: BigCommerce Launch Services.

As you can see in the image from BigCommerce above, they're offering a new service that will take care of all the heavy lifting for you. Their launch service could prove to be invaluable for both newly formed businesses and those preparing to relaunch when changing e-commerce platforms. We'll cover some of the benefits this new service will have for different high-risk businesses later on in this post.
Why we love BigCommerce for high-risk websites
We've referred plenty of business to BigCommerce over the years. As you might know, we recently wrote about how BigCommerce is an excellent e-commerce platform for cigar merchants. Actually, it's also a very good fit for a vape and FFL sales as well as other high-risk (and traditional) product types. In fact, BigCommerce has also referred a lot of business to us in turn. There's no payout involved, and we're not affiliated either. Rest assured, we recommend their business to our clients simply because we know that their model and services work for high-risk.
We help many of BigCommerce's clients in the high-risk category grow by providing them with stable payment gateways and processing recommendations. On our end, we find that BigCommerce offers our existing clients a fantastic overall e-commerce platform that allows them to succeed. It's compatible with two of our most recommended payment gateways, Authorize.Net and NMI, and offers all the features our clients want from an e-commerce platform.
Why consider BigCommerce's Launch Service?
BigCommerce recently reached out to us to discuss what high-risk merchant types we work with and how we could help those site owners accept credit cards on BigCommerce. We, of course, brought up our vape, pipe, cigar, tactical, and FFL clients. From there, we spoke with BigCommerce about how we can best help our mutual clients succeed. This is where the new BigCommerce Launch Service came in. It can be a huge benefit to business owners and high-risk site owners who currently run, or are about to start an online shop.
BigCommerce's 3 tiered launch plans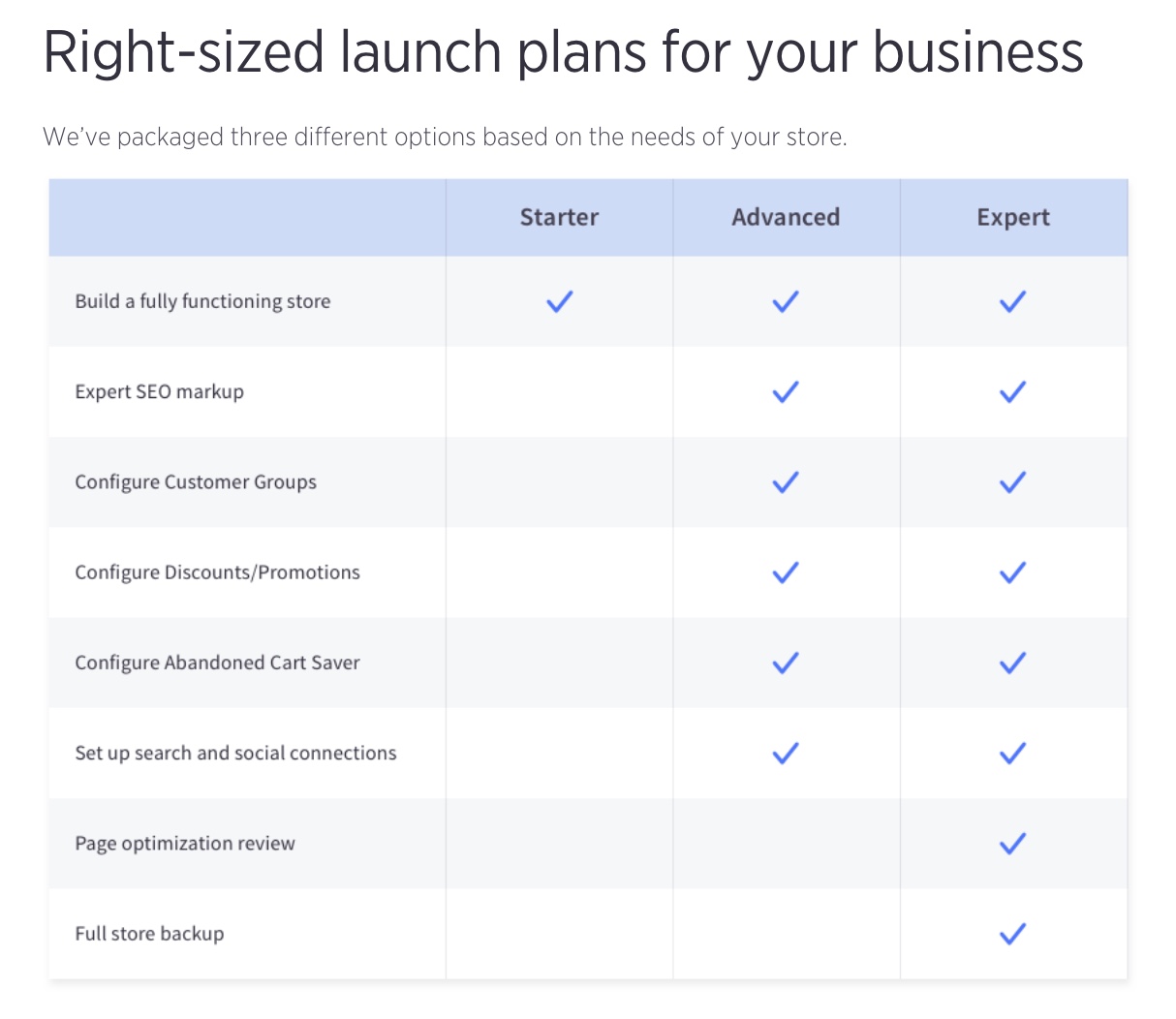 The BigCommerce Launch Service offers smaller, independently owned online businesses, as well as larger high-risk companies, some great benefits. As you can see above, they offer three different launch packages: "starter," "advanced," and "expert." Even though their advanced and expert packages offer a great amount of value, don't underestimate the starter pack. It ensures that your site is fully functional and meets your specifications. With the starter pack, you'll get control panel orientation, a domain name, DNS, and security setup. Not to mention the bonus launch resources and personal support you'll receive from BigCommerce's launch experts.
Switching your high-risk site to BigCommerce?
If you're in the process of migrating your site from another e-commerce platform, the launch package's high-end support and efficiency are exactly what you need! As a business owner, you don't always have time to spare for fine-tuning your site. The launch packages will free you up to make sure the business is ticking along as it should. They'll let you get back to doing what you do best, while you have their experts working hard to get your online store ready for launch.
Launch your online high-risk shop with confidence
It makes a world of difference when you feel comfortable, confident, and prepared launching your online store. If you're either planning on migrating your site to BigCommerce or thinking about starting your online store on BigCommerce, we highly recommend checking out their launch services.
All services will be conducted by their in-house experts that are happy to talk you through what they do, and why – giving you new insights to take with you going forward.
Don't forget, if you're about to switch to BigCommerce it might be time to reevaluate your payment gateway and merchant account combo. After all, you might need a specific high-risk merchant account paired with a specific payment gateway depending on your industry and business. Please feel free to reach out to us, we're always more than happy to talk through your options. We always take the time to make sure we understand your business model intimately. We can help to strip away any confusion in choosing the right payment gateway when you set up with BigCommerce. Contact us today, and we'll help you get ready for launch!