Selling CBD on Shopify 101 –
Yes, you can sell CBD on Shopify as long as you realize that when you sell CBD products, you're selling "high-risk" products. Although you cannot process payments using Shopify Payments you can still accept credit cards for CBD using Shopify.
To accept online credit card payments for CBD with Shopify you need to set up a high-risk-friendly payment gateway like Authorize.Net, a merchant account that allows CBD, and then integrate them with Shopify. Does this sound like a lot? Don't worry, we can help. * Please check out our Shopify AuthorizeNet compatibility updates page for the most current information on using Authorize.Net to connect to Shopify.
Over the years, we've recommended, tested, and verified plenty of great payment solutions that make it affordable and straightforward to sell CBD products using Shopify. Contact us today using the form at the bottom of this page if you're looking for Stripe, PayPal, or Shopify Payments alternatives for your CBD e-commerce business. We'll help you accept credit cards for hemp and CBD products without you needing to rebuild your site from scratch.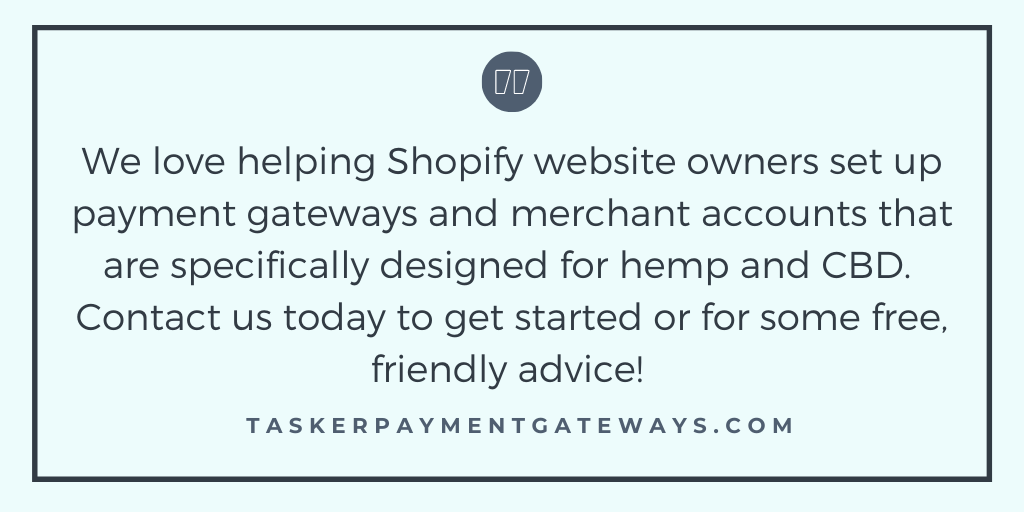 Tasker Payment Gateways LLC is an A+ rated, BBB accredited business that has provided high-risk payment recommendations since 2002. We help high-risk business owners find viable ways to accept payments for CBD product sales on Shopify by recommending the right payment gateway and merchant account options for their business and platform.
You can learn more about Tasker Payment Gateways here, or you can check our BBB page and reviews to see what other high-risk businesses have to say about us.
Know the difference between Shopify Payments and Shopify
Right off the bat, it's important to know that there's a difference between Shopify Payments and Shopify. Shopify Payments is Shopify's out-of-the-box payment gateway merchant account combo, powered by Stripe. It's a great payment solution for the vast majority of Shopify businesses. However, it's not ideally set up for most high-risk business types, regardless of why the industry is defined as high-risk.
You should know that you cannot sell CBD using Shopify Payments. It's specifically listed under Shopify's "regulated or illegal products or services."
However, that doesn't mean you can't sell CBD on Shopify. It only means you need to integrate a different, third-party, payment gateway with your Shopify CBD store. There are plenty of alternatives to Shopify Payments. Which payment gateway is best for you depends on your industry, business type, and business model.
How to sell CBD if Shopify Payments declines your account
There are different reasons why Shopify Payments may decline any given business. However, as we mentioned above, Shopify Payments isn't set up for you to sell CBD products. The good news is that you have options if you're declined by Shopify Payments.
When you're selling CBD products, you sell regulated products. As a result, financial institutions and merchant service providers need to proceed with greater caution. More often than not, this results in most not offering their service to CBD businesses.
We'll likely recommend an Authorize.Net payment gateway for your Shopify CBD business. We do not recommend that you contact Authorize.Net directly for CBD payment processing. This is important because you also need a high-risk merchant account with Authorize.Net. Most accounts set up directly with AuthNet are only low-risk-appropriate.
If you're trying to sell CBD on Shopify, you need a special setup including a CBD merchant account and high-risk Authorize.Net account. Read more about Authorize.Net and high-risk credit card processing on our dedicated Authorize.Net information page.
You can contact us any time if you need help getting a high-risk Authorize.Net payment gateway or merchant account. Our trusted, dedicated, independent agents and processing partners will set you up with a CBD-friendly gateway and help you integrate it with your Shopify website.
Selling CBD on Shopify can be easy
When you're selling hemp and CDB based products, you most likely face more challenges than you'd like. We're right there with you. This is why we specialize in finding the best solutions, the ideal merchant accounts, and the CBD-friendly payment gateways that will work for you – regardless of your platform, shopping cart, and e-commerce solution.
There are many ways to process credit card payments for CBD products online. If you'd rather check our alternatives to Shopify for selling your CBD products, we recommend reading our CBD payment gateway and merchant account guide here. However, if you've already started building your Shopify store, we're here to make it easy for you to accept payments using your existing site.
Contact us today for a CBD-friendly payment gateway for your Shopify store
Get in touch with us and our payment gateway specialists through our contact form below. We'll happily give you advice and assistance with no upfront fees or obligations to sign up for anything. We always take our time to make sure you know your options.
If you need help integrating a CBD-friendly payment gateway with your Shopify store, we'll take care of it for you. At Tasker Payment Gateways LLC, we'll have you set up and selling as soon as possible.