Wix and high-risk payment gateways (solved)
We've talked before about how Wix is a tremendous high-risk site builder alternative, as well as writing a post on how it's very possible to set a Wix site up for FFL online sales. However, there's been a recent development that has caused a real challenge for high-risk site owners. We have spent a lot of time working the phones and the message boards and are happy to say we have a solution.
Background on Wix, Authorize.Net and high-risk payments –
For years, business owners that sell regulated products like tactical items, FFL sales, cigars, vaporizers, or pipe and glass for smoking have been able to natively integrate Wix. The process was fairly straightforward; all they needed to do was work with a high-risk provider, like us, and set up an Authorize.Net account specifically underwritten for their product type.   
Wix has ended new Authorize.Net direct integrations
We are so happy to be able to provide payment processing recommendations for high-risk Wix sites. This is a really big deal to us because Wix's "native" high-risk payment gateway integration options have now been reduced to 0. Yes, 0 direct integrations for Authorize.Net and Wix remain. But we do have solid, stable, and affordable ways to integrate a genuine Authorize.net payment gateway with Wix.
Wix won't allow new merchants to use the Authorize.Net integration. Again, high-risk site owners were able to use Authorize.Net as the payment gateway piece, while working with a resource like Tasker Payment Gateways LLC to pair it with high-risk processing on the back end. That system worked perfectly for many years.
This was obviously not great news for new site owners who wanted to take advantage of the many fantastic features Wix offers – especially those that had already invested many hours making their site perfect only to find out they have no way to accept credit cards. Luckily, after a lot of research, we have come up with a stable solution.
There is a high-risk Wix solution called Foxy.io- and it's great
We've been able to find a solution that works for high-risk merchants who want to use Wix as their site builder -Foxy. Foxy.io is a full-featured shopping cart that quickly and affordably integrates with Wix in place of the native Wix cart. This solution allows high-risk site owners to integrate with a host of Foxy compatible payment gateways – many of which are high-risk friendly.  We can then provide business owners with the high-risk merchant account recommendation that best fits their business.
If you'd like help setting up Foxy.io correctly with an Authorize.Net or NMI payment gateway, please don't hesitate to get in touch. We're always happy to provide some free, no-obligation advice!
As we mentioned, Wix is a great site builder. It's an intuitive and very straightforward drag-and-drop system. As a result, Wix makes it easy for you to create your e-commerce site with the exact look you have in mind.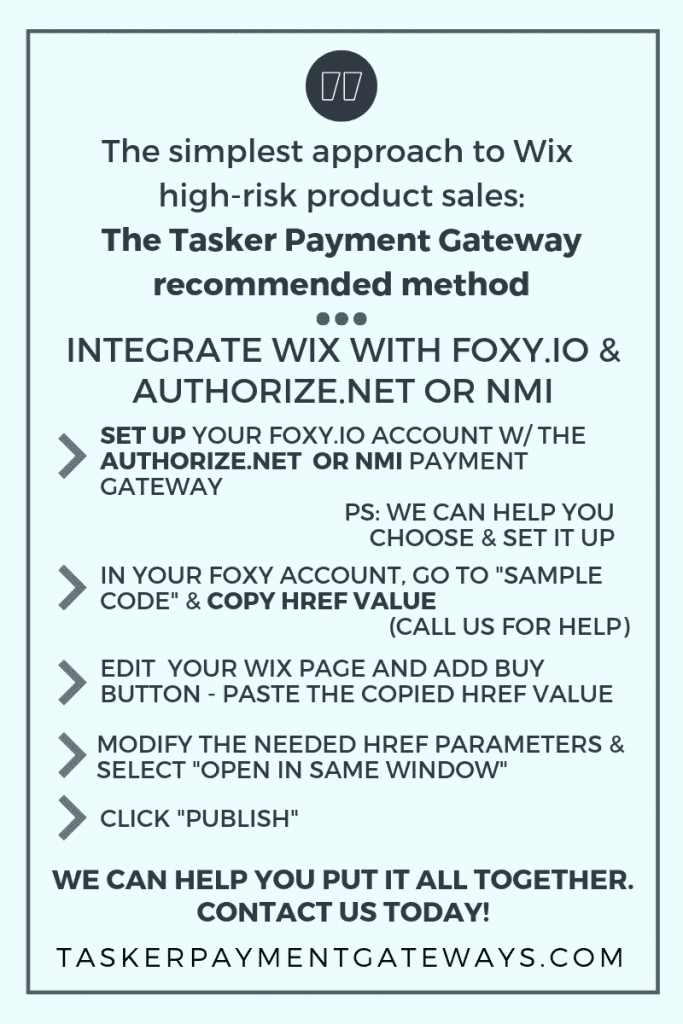 How to integrate Wix with Authorize.Net or NMI using Foxy
Step 1. Integrating Foxy.io with Wix. This is actually very similar to how you can integrate Foxy with Squarespace.
Here are the steps you'll need to follow:
On your Wix page
Add a purchase button where you'd like on your page
Edit the button, and change the link by selecting "Web Address"
Now go to your Foxy admin page
Go to the Sample Code page and go down to the "Step 2" section
Copy the "href" value from the link example
Go back to your Wix page
Enter the copied link
Modify the product parameters (name, sums, etc.) as necessary
Select "Current Window" so your customer remains in the same tab/window when clicking the button
Click done, and publish changes
It's as straightforward as that… well, almost.
While Foxy does integrate with two of our favorite high-risk friendly payment gateways, Authorize.Net & NMI, these need to be set up correctly.
If you need any help setting up a high-risk account with Authorize.Net, or need assistance with NMI, please don't hesitate to reach out to us. We're always more than happy to lend a hand and give you the support you need. We'll be able to guide you through the entire process and make sure your high-risk credit card processing starts off on the right foot.
In addition to Foxy.io, there are other solutions that provide a similar service, Ecwid is one example. Read more about Ecwid here.
How to integrate NMI and Wix
As we mentioned, the least complicated solution to integrating NMI with Wix is to go through Foxy.io. We want to give you some quick insights into how you can incorporate NMI with Foxy.
After setting up your Foxy account (they do offer a free trial) you'll want to access your NMI account and obtain your username and transaction key password. We'll get both of these from NMI once we set you up.
From there, you'll enter these into your e-commerce "payment" settings in Foxy.io.
We highly recommend that you test it thoroughly first. You don't want to wing it when you're running payments, after all!
This Foxy/Wix error has a simple solution
At this stage, many come across an error that says: Override Duplicate Threshold is not allowed. What you'll need to do next is to get in touch with your payment gateway provider and tell them to remove that restriction. If you get your gateway through us, we promise we know precisely how to fix that common error.
This might sound a little complicated, but don't worry! If you need any help setting up your Foxy or NMI accounts, we're here to help. Just get in touch with us by using our contact form here. We'll be able to guide you through the entire process and give you the support you need, from start to finish so that you can accept payments for your high-risk products.
Deciding between NMI and Authorize.Net
Even though it's tempting to think that high-risk sites can equally choose between different high-risk friendly payment gateways, that's not necessarily the case. This is because specific niches, like FFL sales, have other challenges and processing solutions than vape e-commerce sites, for example. This means that you have different needs depending on the processor we recommend – as such, one payment gateway might be better than the other for you.
You can see a few examples of how this plays out when finding the best payment gateways for different high-risk business types.
While it's easy for us to connect NMI and Authorize.Net with Foxy.io and Wix, there are differences between them. They're both excellent high-risk payment gateways; some high-risk merchants might simply be better off using one over the other.
For example, Authorize.Net might be the best option for you if you're selling premium cigars. On the other hand, if you're FFL to FFL sales or tactical gear, then NMI may prove to be the better option. Again, this is mostly due to the processor integrations on the back end.
Of course, if you are selling FFL to FFL, want a merchant account recommendation for online vape products, or need a payment gateway for pipes and glassware, don't hesitate to get in touch with us. We're more than happy to evaluate your business and help you find what merchant account-payment gateway combo works the best for your Wix site's unique needs.
Let us help you set up you up for high-risk payments
Regardless of whether you need help setting up Authorize.Net or assistance getting started with NMI – we're here to help. We've worked with thousands (literally!) of high-risk site owners since 2002 and helped them get the best payment gateway and merchant accounts for their specific needs. We are A+ rated, and BBB accredited too, you can read more about our Better Business Bureau rating here. 
If you'd like to have a chat about your business, you can always contact us here for a no-obligation talk. You can also use our contact form below. We can help you sell your high-risk products on Wix – by using the right high-risk friendly payment gateway for your business.