Urgent Info Regarding Vape Juice and E-Cig processing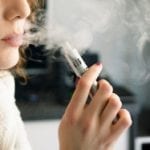 The ripples from the FDA final rule may be beginning in the processing world. Although the information we have is preliminary, inconsistent, and vague, it is important enough that we wanted to get this out so folks can make decisions on their own.
This may or may not apply to your online Vape Business or your processor.
We are very concerned that processors will no longer support any merchant who sells E-Juice or any other products ONLINE that mention the word tobacco:
• in the label,
• in the flavors,
• in the ingredients,
• or has any direct or indirect reference to tobacco.
Having products on your website that reference tobacco (EVEN FLAVOR) in any manner could very likely be grounds for immediate termination of your merchant account without warning and no recourse!
We think it may be wise to not delay in removing ALL products from your website that have those references IMMEDIATELY or risk termination with no possibility of re-opening your account.
This is, of course, a business decision that must be made by Vape Industry online merchants.
(By the way, if you are selling CBD oil of any variety, without it being clearly disclosed on your original merchant account application you are almost certainly in violation of your processor's terms of service and subject to termination.) Contact us anytime for advice.
If you have recently lost a merchant account and need some friendly advice as to where to go from here, please call
contact us
right away. We have our little birds out there gathering information and are always happy to help.