The FDA's renewed focus on vaping:
There have been some new developments in the high-risk e-commerce world that are worth paying close attention to if you are in the e-liquid/vape industry. The FDA seems to be renewing its focus on the electronic cigarettes in general and the e-liquid industry specifically.
Because we have helped hundreds of e-liquid and vape merchants with credit card processing and payment gateways over the years we keep our ear to the ground for recent developments that are relevant to our clients.
This week it has been reported that the FDA is again concerned about vaping, looking especially at research on vaping and High School students. According to Tech Times, the FDA believes that the increase in vaping can be seen as "an epidemic". In their article, they mention that the different flavors are too inviting to kids, a theme that was also common during the last administration. Additionally, the FDA says they are worried that vaping can become a gateway to "combustible tobacco cigarettes among youth and young adults".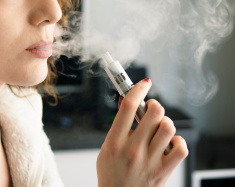 The tone feels like somewhat of a contrast to what we reported on last year, where the FDA grandfathered electronic cigarette products currently on the market. A widespread adoption of vaping and e-cigarettes was considered at least somewhat to be in the public interest as a substitute for combustible cigarettes.
Nevertheless, Mitch Zeller, who is the head of tobacco policy at the FDA is concerned that e-cigarettes are a double edge sword. Toxicity and lacking research on the components that adds flavor to e-juice is the main problem area, as reported by the WFPL in their cover story. The other main problem area is that Mr. Zeller believes that flavored e-cigarettes are often marketed to teenagers.
Responding to flavors and how they supposedly market to teenagers, Greg Conley, President of American Vaping Association, remarked that if you "spend some time in a vape shop and see the customers that come in for these wildly named products. They are adults. They are over 25 years old… It's something that is a little lurid, appeals to adults. We're not a country of serious, uptight people that just want straightforward products".
This new turn of events is understandably going to cause some concerns in the wider e-liquid industry. However, for now, it remains a discussion by the FDA who are open to public comment on the subject. We will, of course, pay close attention to this as it develops and keep our high-risk vape and e-cigarette merchant clients updated.
Keep up on the latest high-risk e-commerce news
Follow us on twitter or facebook to be sure you get real-time updates as we follow this story and many others.