Conversion tips: Hick's law, carousels and more
Get past your marketing troubles
Many in the high-risk credit card processing industry have a tough time with the marketing restrictions placed on our respective sectors. While in many cases these restrictions are understandable, they certainly make it more difficult to find customers. We recently read some interesting articles and wanted to share with you some of the tips and tricks that are proven to increase your traffic and conversions. The primary source for this data is 10 Highly Effective Web Design Tips Backed By Research. We've broken down what we consider most relevant for high-risk businesses.
Understanding Hick's Law
Hick's Law is the theory that the more choices the customer has, the less likely they are to make a decision and purchase one of the available options. In other words, you might be hurting your conversions if you give your customer too many options. It might result in them being unable to choose a preference. If you have a lot of form fields or a large number of variants of a single type of product you could try selecting the most popular ones and limiting the selection for the immediate future. If your sales increase and your customers remain happy, you know you're in better shape. Additionally, minimizing the variety of a single product might actually lower your costs. This is especially true if you need to keep an inventory.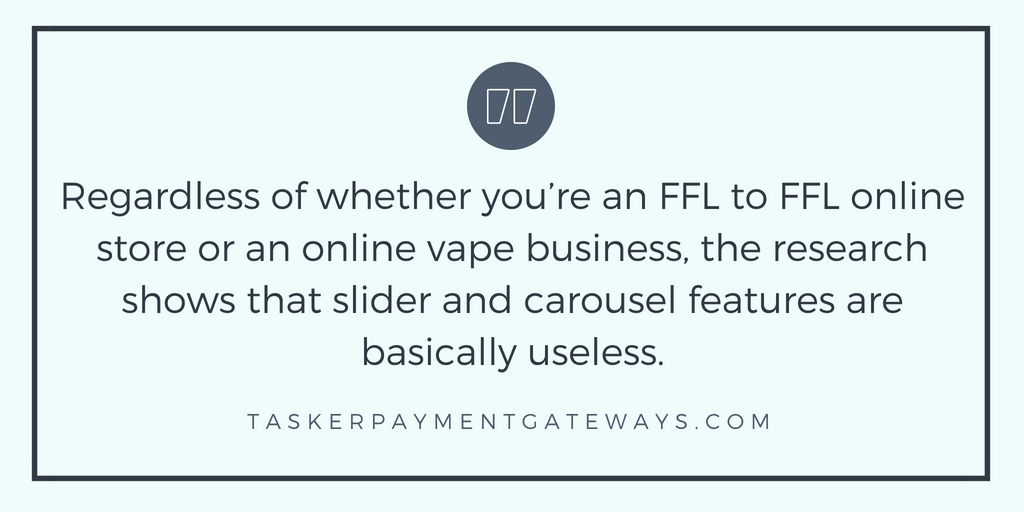 Say "No" to the sliders and carousels and bring back scrolling content
Regardless of whether you're an FFL to FFL online store or an online vape business, the research shows that slider and carousel features are basically useless. Around 90% of the clicks they get go to the first slide. This begs the question, what purpose do the rest of them serve? Remember back in the day when most websites were just one long page? No one is suggesting that we go back to that system, but there is an advantage to having a lot of your content laid out on a single page. This allows the user to scroll what tickles their fancy, and if they're given a reason to click this will draw them into your web-store.
With long-form content on one long scrollable page, you can lower your bounce rate while increasing your conversions. This may sound crazy or like a step backward in website design, but remember that we didn't have the data then that we have now. According to a case study on this issue, conversions increased by 30% with a more extended webpage, which is significant. Refinement is key and our goal is to increase sales, not to make the prettiest website. Additionally, we're sure that there are plenty of very cool designs you can make with a long scrolling webpage. Don't let design-minded people make you forget you're here to sell.
Be smart when making lists
Lists can be an easy way to link to similar content or layout selections of a product. However, according to the serial-position effect the longer the list, the harder it is to remember what was in the middle. What we remember from lists is primarily the beginning and the end of them. For whatever reason, the human brain isn't too great at recalling what's in the middle. There are many ways to combat this, and what better way to demonstrate it than by a list:
Keep your list short and easy to read.
Use foldable lists that expand with options when the user clicks or hovers over a generalized subject.
Place the most popular items in the middle and in bold. Still, remember you don't want to force the eye away from your other items.
Place the most popular items in the middle and use an asterisk followed by "best seller." *best seller*
Have each following item on the list move a few spaces out to the right. This will distinguish each new piece or listed item.
The critical thing to remember is to keep lists shorter if you want more of the middle items to be selected or purchased. Also, as you can see, using all the tricks at once can be a little busy. Choose a strategy and keep it simple and consistent.
Keep your SSL up to date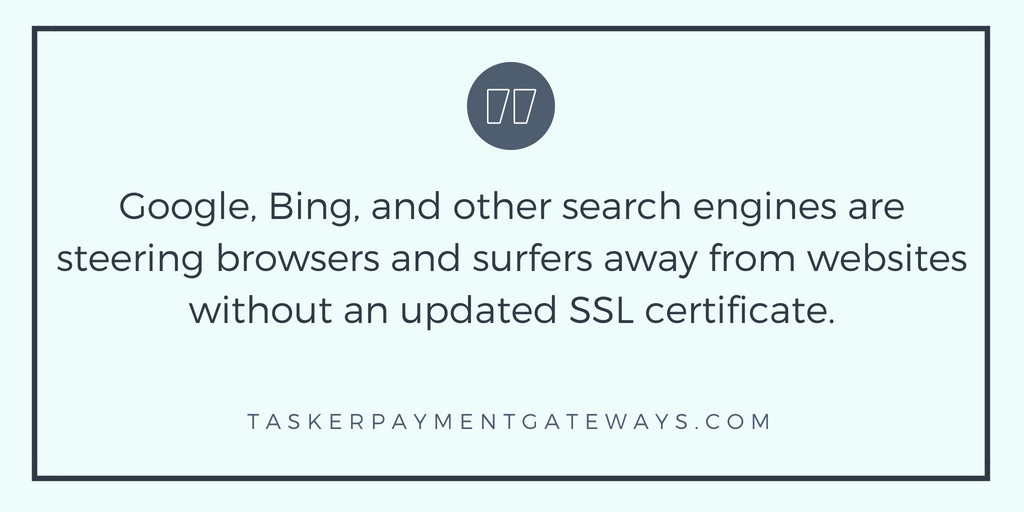 In the last few years there have been many advances in the SSL/TLS field, and if you have an older website you must make sure to update your SSL. While SSL is still the dominant term, most sites use a TLS type of Internet protocol these days because of the vulnerabilities found in SSL. Google, Bing, and other search engines are steering browsers and surfers away from websites without an updated SSL certificate. In other words, this means that no one will be able to find your web-store or purchase anything from you. Read more about this in our recent article HTTPS is now an absolute must for high-risk e-commerce SEO!
Remember that we're here to assist anyone who needs help setting up or switching to a high-risk payment gateway. We can also recommend a merchant account that will be explicitly underwritten for your business, all at no cost or obligation to you. Contact us today and we'll help you get started!